VICTOR MATURE - Film Society of Lincoln Center Announces 2015 Jewish Film Festival - Cry of the City is featured.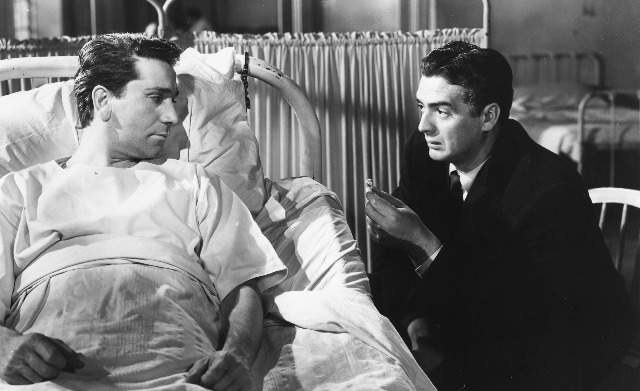 This is so cool! Film Society of Lincoln Center Announces 2015 Jewish Film Festival - Cry of the City is featured.
Sunday January 25th, 2015 - 1 p.m. at Walter Reade Theater
Make sure to check out both links. Thank you so much to Victoria for the info!
Cry of the City
Robert Siodmak, 1948
USA | Format: DCP | 95 minutes
Full-fledged noirist Robert Siodmak directed this gritty crime drama about two childhood best friends who take divergent paths: one becomes a cop (Victor Mature); the other, a cop killer (Richard Conte). The killer must grapple with confessing to a murder he did not commit in order to save his girlfriend from being framed for the crime. Shot mostly on location in New York City, the film features a thrilling score by Alfred Newman and is based on a masterful script by uncredited screenwriter Ben Hecht.
Series: New York Jewish Film Festival 2015
Venue: Walter Reade Theater
The Jewish Museum and the Film Society of LINCOLN Center will present the 24th annual New York Jewish Film Festival at the Film Society's Walter Reade Theater and Elinor Bunin Munroe Film Center, January 14-29, 2015. The festival's 47 features and shorts from 11 countries-21 screening in their world, U.S., or New York premieres-provide a diverse global perspective on the Jewish experience.
The festival includes a number of "beyond the screen" programs, including a presentation of the work of artist Keren Cytter followed by a discussion with Jens Hoffmann, Deputy Director, Exhibitions and Public Programs, the Jewish Museum; continuous screenings of trailers from films noirs; an EXHIBITION of posters for antiwar movies; a midnight showing of the 1980s break-dancing hit, Breakin'; Talking Movies, panel discussions about Zionism and antiwar films; a master class on filmmaking with Susan Korda; and a special screening of the late Mike Nichols's 1996 comedy, The Birdcage. A 25th-anniversary screening of Jennie Livingston's Paris Is Burning will be accompanied by two other films selected by the director.
NEW YORK NOIR (1945 - 1948)
New York was a frequent setting for films embracing the cinematic style that came to be defined as film noir. Starting with Henry Hathaway's The House on 92nd Street, a twisted tale of Nazi espionage, directors interwove documentary techniques into the storytelling, wanting to "film where it actually happened." These films portrayed the city as a postwar Gotham with endless crime and intrigue. Other films to be screened include Robert Siodmak's Cry of the City, about former childhood friends who confront each other as cop and cop-killer; and Jules Dassin's The Naked City, depicting a police investigation of the murder of a young model in her Upper West Side apartment.
Cry of the City
Robert Siodmak, USA, 1948, DCP, 95m
Full-fledged noirist Robert Siodmak directed this gritty crime drama about two childhood best friends who take DIVERGENT paths: one becomes a cop (Victor Mature); the other, a cop killer (Richard Conte). The killer must grapple with confessing to a murder he did not commit in order to save his girlfriend from being framed for the crime. Shot mostly on location in New York City, the film features a thrilling score by Alfred Newman and is based on a masterful script by uncredited screenwriter Ben Hecht.
Sunday, January 25, 1:00pm
http://www.filmlinc.com/films/on-sale/cry-of-the-city

http://www.broadwayworld.com/bwwmovies/article/Film-Society-of-Lincoln-Center-Announces-2015-Jewish-Film-Festival-20141204